System 002
The Ocean Clean Up group has been working hard with System 002 to clean up our oceans! Learn more about the benefits this vessel has for our environment!
System 002/B has had a very successful year in the Great Pacific Garbage Patch and is looking forward to demonstrating its strength again March of 2023!
There are so many perks that System 002 has and the accomplishments this vessel has made towards a cleaner environment.
There have been a total of 8 cleanup trips into the Great Pacific Garbage Patch.
A total of 150 days at sea were logged with System 002.
The amount of plastic removed from the Great Pacific Garbage Patch was a total of 153,000 kg.
There was 4 consecutive trips taken with catch totals of 25,000 kg.
Only plastic was compromised with a percentage of 99.9% catch.
System 002 is now being reevaluated until March to handle upgrades and work towards the more efficient and larger System 03.
System 002/B thrived on ocean clean ups in 2022
Check out system 03 soon to come!
There will be a smooth transition when moving from System 002 to System 03.  From the Retention Zone, to switching the old wings, to finally gradually extending the wings to full potential! 
Being 3 times the size as System 002, System 03 has the capacity to capture much more plastic! Altogether, cleaning the ocean will be much more economical when using bigger systems.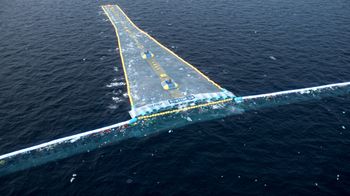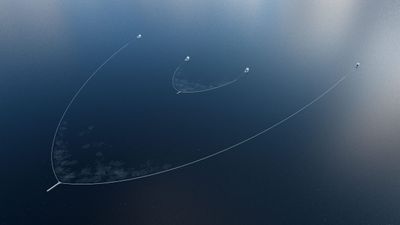 How is Adventure whale watching involved?
The Great Pacific Garbage Patch is right of the Coast of California which makes a lot of trash float into the vicinity where our vessels go everyday and we like to help out! As a company, it is one of our goals to clean up trash as we go. Keeping the ocean clean is a very important for the environment and the marine wildlife!
Entanglements are also a huge problem due to all the garbage in the ocean. There are a lot of fishing net or line that gets lost in the waves of the ocean and if a animal is in danger, sometimes there is not a lot of traffic for anyone to send help. However, our company, reports wildlife endangerment and if needed, we will help! It is crucial that we are out on the water so we can continue to keep our marine life safe!
Here at Adventure Whale Watching, we encourage you to learn more about the Ocean Clean Up Project and what you could do to help! Also, learn about how to report an animal in danger!